Missing my blog + freebie
L
ately, I haven't blogged as much as I used to... Kinda missing my blog now! But, since life becomes so uniform, I feel as if there is nothing interesting to tell about. Anyhow, I hope to get back into my blogging mood soon :)
Today I am not so well... The weather has been very unpredictable lately, one day it rains one day the sun shines. Not so good for my tired body. So, today I feel kinda rough, sick with cold and some fever. My tongue feels bitter. It's a condition I don't really want to be in! I hope I recover soon :)
By this day next week, Lan will already be in Montreal attending CADE conference and workshop. I am both excited and anxious about it. I am happy he gets to go to Canada and already passed the state where I'm jealous about it, but I am anxious about him leaving me for a week. It's gonna be lonely for me being by myself in this flat. I get so used to have him around me everyday. All in all, I will keep a prayer for him every moment of time, for a safe trip there and back, for the 2 presentations he is going to have to give and for having fun time in Canada. I'll miss him for sure, terribly, but I'll get myself excited counting for the day he returns back to me.
Time really flies! Can't believe it's almost August already... Gosh! I am glad! We are going home on 17th of August, arriving on 20th in Jakarta, simply because we are spending two nights in Dubai. Oh I can't wait for that!
Onto digi-scrapping, Rena has a new kit coming on Monday (tomorrow). It's called Holiday Memories. It's kinda a beachy type of kit. Perfect for your beach holiday/summer holiday.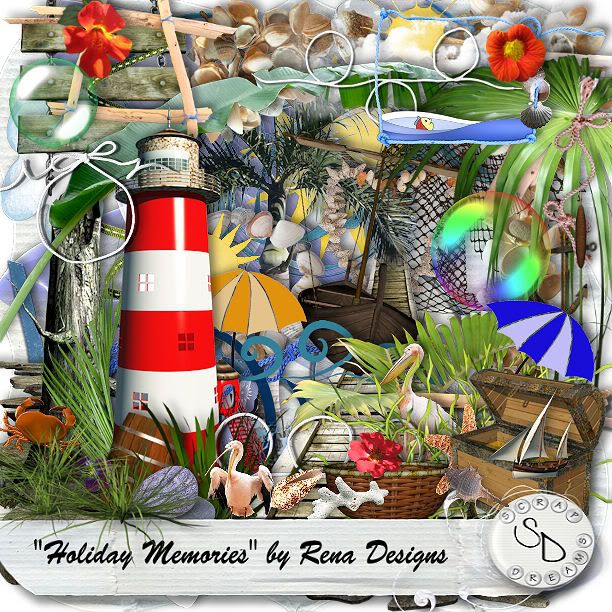 Do you like it? I love it! Full of gorgeousness! If you want to snag this kit, you can get it
HERE
or
HERE
on MONDAY.
That's all for now, peeps! I hope you have a great Sunday! Take care and God bless!
Ps. OK, Rena told me it's OK to offer a QP freebie for you... so I've made my very first layout (yes the blue one up there) as a quick page, where you just need to insert your image in the correct place. Click HERE to and download it!
Enjoy! :)